CUSTOM MADE & OFF THE SHELF KNEE BRACES in MISSISSAUGA & ETOBICOKE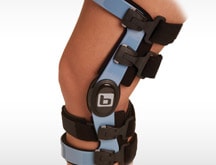 We can provide custom knee braces from a variety of suppliers to meet every level of activity and support that you may need.The suppliers that we use are always reputable and we continue to bring in new braces as soon as innovative designs become available in the marketplace. Custom knee braces are available for post operative recovery, knee instabilities, osteoarthritis, ligament stabilization and for prevention of further injury. The braces are made from magnesium, fibreglass, or aluminum. Bledsoe, Ossur, and DonJoy are just a few of the braces that we currently carry.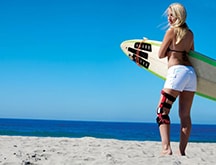 In addition, off the shelf knee bracing is available from a variety of suppliers. Delivery is rapid with off the shelf bracing available overnight if required. Custom knee braces can be expedited as well if necessary but typically are delivered within approximately 7 business days.
Custom knee bracing can be very effective at allowing you to stay active while you await further diagnostic testing, arthroscopic surgery or postoperatively to prevent additional trauma to an affected knee.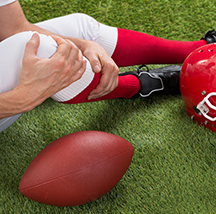 If you currently have extended health care coverage for physiotherapy services, it is very likely that your insurance will also cover some or all of the cost of a custom knee brace. Predetermination is recommended to avoid unpleasant surprises. A physician's note recommending a custom knee brace will almost always be required. Most insurance companies will not cover a custom knee brace if it is recommended for sports only. It would need to be for everyday use in order for most to cover the cost.  We can help to guide you through this process at the clinic. We will provide you with all of the necessary paperwork to send to your insurance company for predetermination. It is recommended that a prescription from your physician be obtained.
COMMON QUESTIONS ABOUT CUSTOM KNEE BRACES
What will wearing a knee brace do?
Knee braces are effective to assist with supporting ligament or cartillage injuries to the knee.
When should I use knee brace support?
Knee braces are recommended if you have damaged the meniscus of your knee, if you have torn the ACL,MCL,LCL or PCL ligamants. They are also strongly recommended if you have arthritis in your knee that is causing pain when you walk or move.
How long should I wear my custom knee brace for?
Custom knee braces should be worn for all weight bearing activities if they are for arthritis of the knee. If you have been given a custom knee brace post operatively after an ACL repair, the surgeon or your physiotherapist will recommend that the brace be worn typically for the first 6 -12 months after repair when doing activities. This varies between surgeons though, so follow your surgeons and physiotherapists' advice.
What are the different kinds of knee braces I can use?
There are off the shelf braces that can be used for MCL ligament injuries or for light support of knee injuries. The most common custom knee braces on the market today include: DonJoy for collision type sports, Bledsoe which is a lighter weight brace and Ossur Braces. Each of these custom knee braces can be designed to include the features that you need for your specific knee injury condition.
Can I re-injure my knee while wearing a custom knee brace?
Great question! Yes, it is possible that even if you have a custom knee brace on, you could reinjure a meniscus or ACL if the brace is not being worn correctly. Meniscus injuries can recur as once the edge of the meniscus is torn, it is vulnerable to reinjury. ACL repairs can also reinjure unfortunately if you are placing stresses on the repair beyond the limit of what your repair can withstand.