Motor Vehicle Accident Rehabilitation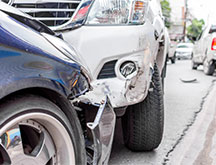 A motor vehicle accident can be a stressful experience for everyone involved. Car accidents can range from simple fender benders to serious accidents that result in major injuries and loss of life. The severity of the accident will impact the nature of the injuries sustained in the collision. However, big or small, motor vehicle accidents can result in pain and negatively impact quality of life. Most people involved in an accident will require rehabilitation treatment to help them recover from their injuries.
What are the most common injuries after a motor vehicle accident?
A motor vehicle accident can produce a variety of different injuries depending on the nature of the accident. Most car accidents can result in multiple injuries impacting several different areas of the body.
Some common types of injuries include:
Whiplash
Fractures
Concussion
Muscle or tendon tears or ruptures
Neurological injures
Sprains and strains
Injuries requiring surgical repair
Is there treatment available for the motor vehicle accidents?
Some people will be involved in minor accidents and will not feel much pain, or the symptoms improve after 1-2 weeks. However, for some people, even minor accidents can result in pain and limited function. For those involved in more serious accidents, they may have more significant injuries that need treatment. There is treatment available for individuals who have been involved in a collision. The benefits are paid for by your car insurance. The treatments are provided by Registered Physiotherapists and Registered Massage Therapists and aim to help manage pain and get patients back to the important things in life.
What is Motor Vehicle Accident Rehabilitation?
The term Motor Vehicle Accident Rehabilitation refers to the services that are involved in the treatment of injuries from car accidents. At PhysioNow, all our therapists have many years of experience with motor vehicle accident rehabilitation. Car accidents are unique in that they can result in multiple areas of injury from head to toe. The combined expertise of our physiotherapist and massage therapists helps patients get through their injuries and back to their regular lives.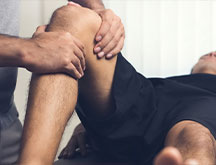 Motor Vehicle Accident Rehabilitation will start with an assessment with a Registered Physiotherapist. The assessment will include:
Detailed history of the accident and the injuries sustained.
The nature of the symptoms and what activities are affected.
Information regarding any medical appointments to date and/or any imaging that was completed.
Physical tests that explore the range of movement, strength, and function of the affected areas.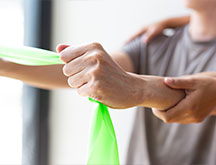 What can I expect during my first appointment?
Once you have reported your accident to your insurance company, you will be eligible to start treatment as soon as you feel ready to do so. It is recommended that you start your motor vehicle rehabilitation sooner than later to ensure that your pain and limitations do not develop into chronic issues.
When you are ready to meet with your physiotherapist, they will perform a thorough exam to get an understanding of your specific injuries. Once this is completed, the physiotherapist will determine the most appropriate treatment plan for your injuries and get you started on your road to recovery. Your physiotherapist will help you book your subsequent physiotherapy and massage therapy appointments and progress your treatment plan as appropriate. Our team will do their best to help you get through your recovery as quickly as possible so that you can get back to doing the things you love!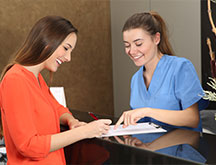 We have 4 locations across the communities of Mississauga and Etobicoke to help you manage your symptoms. Contact PhysioNow today and let us help you get started with your recovery!
COMMON QUESTIONS ABOUT MOTOR VEHICLE ACCIDENT (MVA) TREATMENT
Why Did My Pain and Injury Symptoms Not Appear Until Days After the Accident?
Immediately after a car accident, your body is in shock and there are a lot of stress hormones that get released. These hormones can block your feelings of pain for the first 24-48 hours. Once the effects of the shock start to wear off, then you will start to feel more pain symptoms.
Why Should I See a Physiotherapist After Being Hurt in a Car Accident?
A physiotherapist can assess the effects of the accident on your body and develop a treatment plan that is targeted towards your specific pain and symptoms. A physiotherapist will help you reduce your pain, regain your movement and increase you strength and function. With the help of a physiotherapist, you can ensure that your pain and symptoms from an accident do not give you a lifetime of problems and limitations.
What Are the Most Common Injuries Associated with Car Crashes?
The most common injury after a car accident is whiplash, which results from the sudden forward and backward movement of the neck from the impact. Whiplash can affect multiple structures of the neck and can take a long time to heal. Other common injuries from a car accident include strains to the shoulder, mid back and low back. Concussion is also a common injury from a car accident.
Who Will Pay For My Medical Bills and Other Damages?
When you are involved in a car accident, the car insurance will pay for part or all of your physiotherapy treatment. In Ontario, the insurance regulators have made it mandatory to exhaust your extended health care benefits if you have any. The portion that your extended health care does not cover gets billed to your motor vehicle insurance. But regardless, you will not have to pay anything out of pocket to cover the costs of your treatment.
How Long Will I Need to Receive Physiotherapy Treatment?
The length of treatment depends on the nature of your injuries. Some individuals with minor injuries may get better within a few weeks. For those who have sustained more serious injuries, the treatment time may be longer as a result. In Ontario, all motor vehicle accident patients are entitled to receive a minimum of $3500 worth of treatment, which works out to approximately 4-5 months of treatment if necessary.
Back