Registered Massage Therapists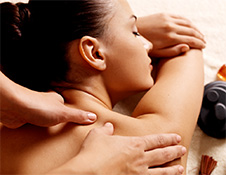 Our team of highly skilled Registered Massage Therapists in Mississauga & Etobicoke will help you achieve your goals to become tension and pain free in a safe and relaxing environment.
Our mission is to provide you with the best service possible with the highest quality of care from our dedicated, skilled team of Registered Massage Therapist`s (RMT's).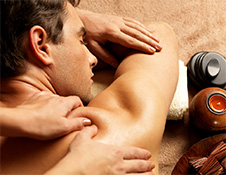 Some of the most popular types of massage therapy offered at our clinics include the following:

Trigger Point Therapy:
Relieves tight areas deep within muscle tissue known to cause pain
Manages pain associated with tension and chronic injuries
Deep Tissue Massage:
Helps to release muscle tension
Loosens scar tissue and aims to gently lengthen muscles
This is Ideal for chronic and overuse injuries
Swedish Massage:
Very relaxing, this therapeutic approach is often light to medium pressure
Encourages circulation and lymph movement
This is recommended for stress-related conditions and chronic pain
Sports Massage:
Improves muscle flexibility which may reduce the risk of injury
This can reduce post-workout recovery time
All Massage therapists at our facilities are registered so that you may claim back the fees through your extended health insurance plan. In many cases we can bill your insurance company electronically so you can just relax and enjoy the massage therapy without worrying about sending in the bill to get your money back. Our Registered Massage Therapists can facilitate your recovery from motor vehicle accidents, work injuries, sports injuries or everyday pains and strains.
COMMON QUESTIONS ABOUT REGISTERED MASSAGE THERAPISTS
How do I know which type of massage is best for me?
A skilled massage therapist will be able to fully evaluate the areas of concern that you have,and then proceed with the correct massage to address these. At PhysioNow, we only hire the best Registered Massage Therapists. Each of our Massage Therapists has their own specific style and stregths. If you speak to the receptionists at the front desk, they should be able to recommend the best Massage Therapist for your specific needs.You can also check out our Massage Therapists on our website to see if one of them stands out to you.
Do masseuses get on top of you in a Swedish massage?
No, this is a myth. All of our Registered Massage Therapists are fully and professionally trained and licensed.
Are deep tissue massages safe after injury?
Yes, deep tissue massages are safe after injury. If you have just had a new injury, it is advisable to wait up to a week or more before undergoing a deep tissue massage. A lighter massage may be more appropriate in the initial week or two after a new injury.
Are deep tissue massages supposed to hurt?
So, the answer to this is : possibly. Effective deep tissue massages may cause some pain in order to address underlying issues. All of our Massage Therapists will ask you how the pressure is for you. Each person has different comfort levels with deep tissue massage. It is important to let the Massage Therapist know how you are feeling with the pressure. They adjust the pressure for each patient to your level of comfort. It is common to have some stiffness or some pain for a day or two if you have had a really deep tissue massage. After this time, patients typically report that the issue that brought them to the clinic, feels much better!
What are the differences between trigger point and myofascial release massage therapy?
A trigger point is a tight area within muscle tissue that causes pain in other parts of the body. A trigger point in the back, for example, may produce referral pain in the neck. The neck, now acting as a satellite trigger point, may then cause pain in the head. The pain may be sharp.and intense or a dull ache.Myofascial Release is a safe and very effective hands-on technique that involves applying gentle sustained pressure into the Myofascial connective tissue restrictions to eliminate pain and restore motion.
Back