Low Back Pain: Massage Therapy
As physiotherapists and registered massage therapists we treat low back pain – a lot. It is by far the most common injury that we see. Stats suggest that almost all of us will have back pain at some point in our lives. It is also the most common cause for missed days at work. But what causes low back pain?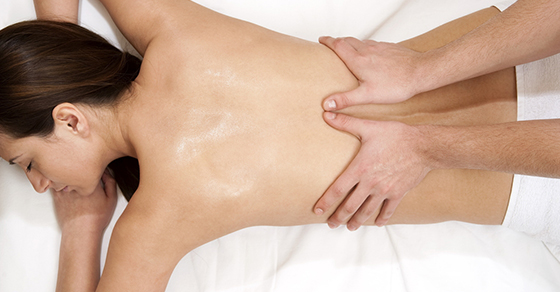 The lumbar spine is very complex, therefore what causes low back pain cannot be answered easily. It is critical to have the spine assessed by someone who is trained to determine what structure is sore, and more importantly why. I have listed some of the most common causes of low back pain.
Common Causes of Low Back Pain
1. Disc herniation or bulge: The disc is a shock absorbing structure that sits between each vertebrae or bone of the back. The disc has a hard outside ring around a soft jelly middle. It is often compared to a jelly donut. Pain is produced when this jelly is pushed through the firm outer shell causing a bump in the circular shape. Sciatica or pain radiating down the leg is caused if this bulge hits a nerve.
2. Joint Stiffness: Each of the vertebrae have a joint connecting them to the bone above and below. Like many of the other joints of the body – the ankle, the knee – these joints will swell and become irritated if they are stretched too far or too much work is demanded of them.
3. Muscle Spasm: Often to protect the back, the muscles that run beside the spine will go into spasm. The purpose of this is to splint the back to allow the irritated area to rest. However, often the spasm can be much worse and more limiting than the initial low back pain. Massage Therapy can be very effective at releasing the muscle spasm and helping you to decrease pain.
These are just a few of the causes, and there are many more. If you would like to know the reason for your low back pain and perhaps more importantly how to treat it, call for an appointment with a Physiotherapist or Massage Therapist today!