Advanced Techniques For Physiotherapy Rehabilitation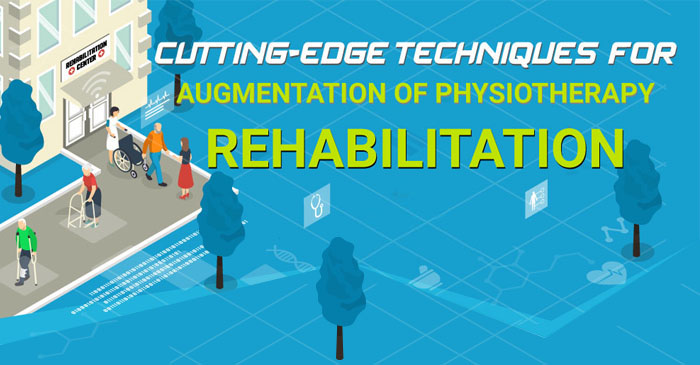 Rehabilitation
Rehabilitation uses a multi-disciplinary approach to physiotherapy to speed up recovery and provide more positive outcomes. Although hands on treatment is the most critical component of rapid healing, when combined with innovative techniques, outcomes are greatly improved.
Disease in Canada
Half of all Canadians are living with at least one chronic health problem and 90 percent have at least one risk factor for heart disease. One in 4 Canadians are affected with lung-related disease and there are 50K strokes in Canada each year. Four out of 5 Canadians are suffering from lower back pain and 11M musculoskeletal disorders are reported each year. Rehabilitation physiotherapy offers treatment solutions to help Canadians avoid the effects of chronic disease, pain, injury and aging.
Types of Physiotherapy
Physiotherapists use a wide variety of techniques including:
Orthopedics: Used to treat injuries or disorders of the skeletal system and associated muscles, joints and ligaments
Neurology: Based on exercises to restore motor function by overcoming motor deficits and improving motor patterns
Palliative Care: Specialty care to support health for those with cancer and other non-malignant diseases
Sports Rehab: Assists people of all ages and mobility levels with injuries, illness, imbalances and barriers that prevent maximal participation and performance in sport
Cardio-respiratory Physiotherapy: Used to prevent diseases and injuries to the heart and lungs as well as to rehabilitate patients with these issues
Geriatrics: The treatment of issues associated with common conditions related to aging including osteoporosis, arthritis, Alzheimer's disease, cancer, joint and hip replacement, etc.
Pediatrics: Assessment and treatment of children with developmental, neurological and growth-related conditions with consideration to the unique needs, anatomy and biomechanics of children from birth until full growth
Rehabilitation Techniques
Scientific and medical research is constantly creating new, more effective techniques including:
Rehab Robotics: A new frontier for neurological rehabilitation treatments.
Water-Based Therapy: Ideal for those with joints that are too inhibited or painful for land based full range of motion exercises.
Gamified Rehab: Audio-visual stimulation through games adds challenge and enjoyment to treatment. Case studies show it has been useful for cerebral palsy and burn patients.
Applications and Wearables: Watches, wristbands, headbands and other sensor-equipped devices are used to monitor vital signs and activity levels while apps provide tracking and educational tools for patients and clinicians.
Light Therapy: Multi-modality tools include LLT, LED and ultrasound allowing clinicians to apply a variety of light and sound therapies without buying multiple new devices. This keeps treatments more accessible and affordable.
How to Choose a Physiotherapy Clinic
Some things to consider in your search for a physiotherapy clinic should include:
Convenient hours
Private treatment rooms
Registered physiotherapists
Ethical billing

FAQs
What do I bring to treatment?
If you have reports and other information related to your injury or condition you can bring these along.
How long does an initial appointment take?
About an hour depending on your condition.
What are the treatments available?
Laser, ultrasound, acupuncture, interferential therapy, TENS, hot wax, vestibular pelvis health, concussion treatments, custom bracing and orthotics, manual physio and more.
How many visits are required?
Vestibular and pelvic health require just a few visits, while other treatments might require more depending on the severity of your condition.