Physiotherapy Treatments in Mississauga & Etobicoke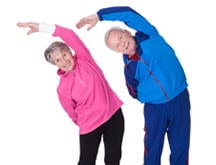 At PhysioNow all of our therapists are Registered Physiotherapists. The first thing that happens when you arrive at one of our Physiotherapy Clinics in Mississauga or Etobicoke is an assessment with a Registered Physiotherapist. After a full assessment, a diagnosis is arrived at and your treatment will begin on the first day. Our physiotherapists are trained to treat many different conditions, including the following: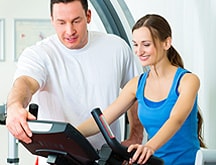 Conditions Requiring Physiotherapy
Sprains and strains,
Seniors activation programs
Post operative procedures such as hip replacements, knee replacements,
Arthroscopies of the knee or shoulder, wrist, ankle, and more….
Speed Up Your Recovery With Comprehensive Physiotherapy Treatment in Mississauga & Etobicoke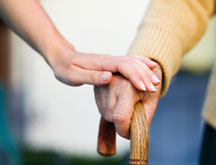 Treatment can include joint and spine mobilization, therapeutic exercise, Interferential muscle stimulation, laser therapy, acupuncture, ultrasound, hot/cold therapy, hot wax treatment, spinal traction and other rehabilitation treatments in Mississauga and Etobicoke. All of these treatment interventions can work together to speed up your recovery. Hands-on treatment is the largest component of treatment at our Physiotherapy Clinics in Mississauga and Etobicoke since we know that it is the most critical component of rapid healing.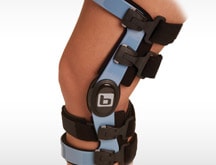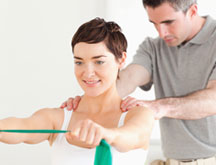 Common Questions about Physiotherapy Treatment
What equipment do I need to bring for treatment?
Just yourself. If you have any Xray or diagnostic reports that relate to your injury, please bring those along. If you are having your knee assessed or treated, please bring a pair of shorts.
How long will the initial accessment take?
The initial assessment will take between 45 minutes to one hour depending on your area of injury. This includes treatment on the first day as well.
What are the different kinds of physiotherapy treatment?
We have many options for treatment including: laser, ultrasound, interferential therapy treatment, TENS, hot wax, acupuncture, vestibular treatment, pelvic health treatment, concussion treatment, custom bracing, custom orthotics and hands on manual physiotherapy.
Do I need a Doctors referral?
We do not ever require a doctor's note in order to start treatment. However, if you have extended health care insurance, your insurance company may require a doctors note in order to cover your treatment costs.
How many treatments will I need?
This depends on the injuury that you are having treated. Vestibular and pelvic health treatments are highly specialized and often most patients only require a few visits in order to get better. If you have a knee injury or shoulder injury, these can take 6-8 weeks at 2 or 3 visits per week. Each injury is different. We will work with you to give you home exercises as well that will help to shorten the number of visits that you need in the office with the physiotherapist. If you have financial limitations, please discuss this with your physiotherapist on the first day or with the receptionist on the phone. We will do our best to stay within your limitations and still help you to get better!
Back