Lower Back Pain Treatment in Mississauga & Etobicoke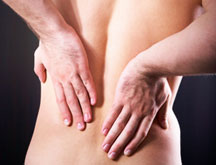 Are you suffering from sudden low back pain? Is it hard to walk, sit or bend? Are you stiff in the morning and does it affect your sleep?  Are you unable to go to work or play your sport?
Back pain can be a constant, dull ache in the middle of your back or it can ache off to one side. It can travel all across your back or into your buttocks and down one leg. It can be extremely sharp and cause muscle spasms.
Why do people get Lower Back Pain?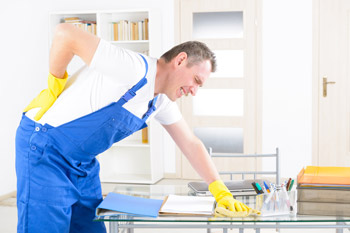 This type of pain can be very debilitating and have severe impacts on your quality of life. Research shows that 80% of people will have at least one back pain episode in their lifetime.  It can affect all different ages and can start for a variety of different reasons.  For example, some of the most common reasons for this injury are:
Traumas such as falls or motor vehicle accidents
Arthritis
Sedentary lifestyles
Very physical job requirements
Poor postures
What are the signs and symptoms of Lower Back Pain?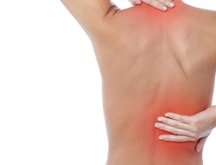 It can ache when you walk and feel better when you sit down. Sometimes it hurts only when you go to reach up or lean backward.
The symptoms can vary depending on the source of the pain. For example:
Some people will feel the pain just in their back.
For others, the pain will be spread out into their hips, buttocks and down into their leg.
Then again, for others, the pain will only be in their leg.
The type of pain that is experienced can also differ. For example, lower back pain can be experienced as:
Sharp back pain
Dull pain
Aching feeling
Tight back
Shooting pain
Burning sensation
It can also present with several different symptoms – not just pain. A lot of people can also experience:
Pins & needles 
Numbness 
Muscle weakness  
Can Physiotherapy help?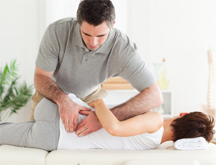 It can get very confusing to figure out where the pain is coming from. An experienced Back Pain Physiotherapist will be able to properly assess and determine the exact source of your pain.  Lastly, an understanding of the source of the problem will allow for the most effective lower back pain Physiotherapy treatment.
Physiotherapy for back pain can include a variety of treatment options. Some of these treatments include:
Electrical modalities such as IFC
Manual physiotherapy for mobilizing joint and soft tissue structures
Exercise therapy to stretch and strengthen the back and surrounding areas
Education regarding the DOs and DON'Ts to ensure the best possible recovery
Goals of Physiotherapy
Our goal at PhysioNow is to make sure that we can help you to return to your life as quickly as possible. We want you to be able to lead an active life and not be limited by your pain!
McKenzie Trained Physiotherapists
We have highly trained Physiotherapists standing ready to help you. We have McKenzie trained Physiotherapists in all of our PhysioNow offices.
This level of training is recognized as one of the most effective treatments available for the treatment of back pain. As a result of this high level of training, the treatment at PhysioNow can provide rapid results! Results may vary depending on the source of pain.
Relieve Your Lower Back Pain Today
If you or someone you know is suffering from back pain, call today to get started on your recovery. We are ready to help! We have conveniently located offices in Mississauga and Etobicoke with free parking and direct billing to insurance.
If you experience sudden low back pain, our experienced physiotherapists at PhysioNow can help you get back on your feet quickly. Your quality of life can be significantly impacted by low back pain and physiotherapy can help resolve your pain and get you back to your life.
Call us today! Same-day appointments are available.
Common Questions about Lower Back Pain Treatment
When should you see a doctor for lower back pain?
It is not normally necessary to see a doctor first for lower back pain unless you require a note for your insurance company in order to claim for physiotherapy or massage therapy benefits. At PhysioNow, we do not require a doctors note in order for you to be seen by a physiotherapist.
What is acute low back pain?
Most acute low back pain is caused by a disc injury for people between the ages of 25-55. After that, it can be caused by degenerative change of the spine.
What are the causes of lower back pain?
There are many possible causes of lower back pain including: disc pain, facet joint pain, nerve root pain that can be caused by bony compression or by a disc injury, or degenerative changes to the vertebrae that can compress the nerves.
What treatments are available for lower back pain?
There are many possible treatments of lower back pain including: spinal decompression/traction, manual movements to take the pressure off of the disc or facet, registered massage therapy, and exercise specific treatments. Most people with lower back pain respond very well to mechanical treatment performed by a highly skilled Registered Physiotherapist. PhysioNow has several highly skilled Physiotherapists trained in these spinal mechanical treatments in order to speed recovery from lower back pain.
How long will lower back pain typically last?
This depends on if you are what we call a "Fast Responder" or a "Slow Responder". Fast Responders can be painfree within days of starting Physiotherapy Treatment. Slow Responders can take weeks to months to fully respond and heal.
We are a very well-established Mississauga Physiotherapy Clinic with many experienced physiotherapists. Our team at PhysioNow can help you recover from your injuries in a timely manner so that you can get back to doing the things you love.
DO YOU NEED TO SEE A PHYSIOTHERAPIST IN MISSISSAUGA?
You have hurt yourself and you need to see a physiotherapist as soon as possible. If you live in the Mississauga area, you are most likely to type in "Physio Mississauga" in google and see which clinics come up! You don't have to look any further because you have found PhysioNow! We are a very established physiotherapy clinic that has been serving the Mississauga area for over 15 years. We are a highly experienced team of physiotherapists and massage therapists who can help you recover from your pain and get back to living your life! You don't need the words Physio Mississauga, you need PhysioNow!! Call us today to book your appointment!
Back