Neck Pain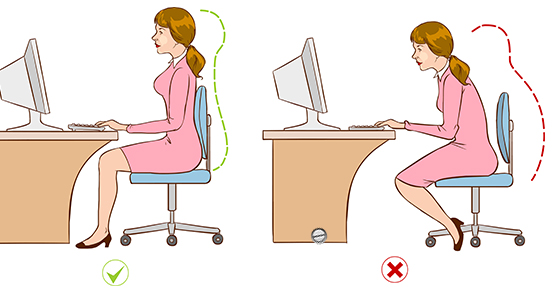 It is hard for me to remember the last day that I did not use a computer. Whether for home banking, doing reports or surfing the net, computer use is becoming more and more vital to everyday life and interaction. However, with all of this increased computer time, you must be aware of posture and positioning to avoid neck pain and shoulder pain.
Ergonomics
The study of proper positioning when working is called ergonomics. It is common that someone who works a lot on a computer will have an ergonomist come and do an individualized assessment of their work station. This will leave them with suggestions on how to improve their area to minimize stress on their bodies and avoid the most common neck pain and injuries seen with constant computer use. However there are common suggestions that everyone can follow for home and work.
The first rule is that your elbow and hips should be bent to 90 degrees while your screen is at eye level. First change the height of your chair so that your elbows are bent to 90 degrees and comfortably reaching the keyboard. Use a tray to pull the keyboard towards your stomach so your arms can rest comfortably at your sides. Also, use a wireless keyboard if you are planning on being on a laptop for a long time. Often, when we raise the chair to the proper height your feet are not resting on the floor and your hips are not bent to 90 degrees. If this is the case, use a small stool or foot rest. Finally check the height of your monitor. You should not have to look up or down to see the screen clearly. Use a book, some paper or a riser to make sure that the screen is directly in front of you.
If you are still uncertain, or find that you have neck pain or headaches after computer use, talk to your physiotherapist. They will be able to customize your space and make it as comfortable, and as safe, as possible.