Say Goodbye and Beat knee pain with an Orthopedic Custom Knee Brace!
Here at PhysioNow, we can help you recover from your knee pain faster by providing you with a Custom Knee Brace. There are many types of knee braces available for purchase. Therefore, it can be overwhelming to know which brace is best for you so does the type of knee pain. In this article, we will give you an overview of custom knee braces. Also, provide instructions on how to start the process of ordering your custom knee brace.
Who can get a custom knee brace for knee pain?
Custom knee braces are most used for individuals with/after:
Post-operative recovery
Knee instability
Osteoarthritis
Ligament or meniscal injuries
Moreover, the brace is constructed using precise measurements taken from your leg. It is designed to only fit you.
Why get a custom knee brace? Is it worth it for knee pain?
Many patients have found that bracing has returned them to a level of function that they were previously thought to be unattainable after their injury. Some of the benefits of a custom knee brace include:
Firstly, get you back to doing the activities you love.
Second, reduce pain and increase the function of the knee.
Support and prevent further injury while you await imaging, surgery, or after surgery.
Individualized to your needs and level of activity ex. Lifestyle vs performance braces.
Ideal for long-term use.
Lastly, lightweight and can fit underpants for a subtle look.
What types of custom knee braces are there?
The most common type of custom-made knee brace is a rigid knee brace. They are usually made of metal, with a hinge to allow the knee to bend, and are the most supportive type of brace.
They are designed for individuals who need moderate-maximum support. The conditions that require a rigid custom knee brace include moderate to severe osteoarthritis, and athletes that need more support after an injury. Also, pre and post-surgical repair of ACL, MCL, PCL ligaments, or menisci.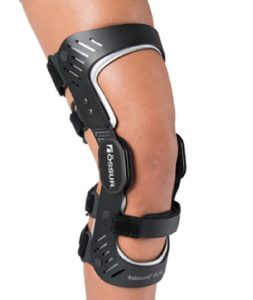 Moreover, under the umbrella of rigid knee braces, there are unloader braces for osteoarthritis. These braces provide more support to the painful, arthritic side of the knee to offload it. This can preserve the joint space while reducing knee pain and increasing knee function.
Another category of rigid knee braces is ligament braces for ACL, MCL/LCL, and PCL injuries, including pre and post-surgical repair. These provide knee support to the sides of the knee to prevent any unnatural twisting or movements. However, our PhysioNow team of physiotherapists will be able to determine which brace is best suited to your goals and lifestyle.
How can I get a custom knee brace?
Follow these simple steps below to get one.
Contact us at PhysioNow to book an appointment time for a custom knee brace assessment.
On the day of your appointment, your PhysioNow Brace Specialist will perform a series of tests and ask you questions to determine which type of brace is right for you.
Make sure you tell your Physiotherapist what activities you are currently doing, and any activities that you would like to get back to doing (ex. Golf, running, walking)
Your PhysioNow Brace Specialist will measure and take recordings of your knee, and discuss any considerations like the desired weight of the brace, special features (ex. Straps and clips), materials, colors, etc
Lastly, we will be able to make inquiries to determine whether your custom knee brace can be covered by extended health care coverage. Care plans that include physiotherapy service coverage will usually have coverage for a custom knee brace as well. This process requires a physician's note, but our clinic will be able to walk you through the process and provide you with the documentation needed to send to your insurance company for inquiry.
Once ordered, delivery will normally take around 7 business days but can be expedited upon request. We will ensure that the brace fits properly and can make adjustments if needed once delivered. So get your own customized brace NOW!