What are your rates?
A: Our fees vary depending on the type of service required. Please call us directly for more information.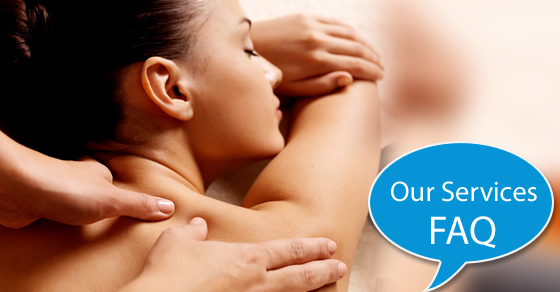 Do you bill my insurance company directly?
A: We can bill many insurance companies directly. Please give us a call to find out if your insurance company is one that we can bill electronically.
Do you accept OHIP?
A: We unfortunately are not able to bill OHIP, but if you do not have extended healthcare insurance, we are happy to speak to you about the fees. We are able to offer one on one treatment directly with a physiotherapist on every visit and provide in-depth care because we are not funded by OHIP. If you would like to speak with a physiotherapist directly about your injury before deciding to attend our clinic, please call the clinic and ask to speak with the physiotherapist on site. We would be happy to explain how we can help you.
We will gladly refer you to an OHIP clinic if you are not able to attend our clinic.
What are your hours of operation in Erin Mills?
A:Erin Mills Clinic is open the following Hours:
Monday: 9:00-6:00
Tuesday: 7:00-6:00
Wednesday: 7:00-6:00
Thursday: 7:00-6:00
Friday: 9:00-5:00
Saturday: 9:00-1:00
What is your address in Erin Mills?
A: 3105 Glen Erin Drive, Unit #4, Mississauga, ON L5L 1J3
Main Intersection: Erin Mills Pkwy and Dundas
What are your hours of operation in Applewood?
A: Applewood Sports & Physiotherapy Clinic is open the following Hours:
Monday: 8:20-7:30
Tuesday: 9:00-5:30
Wednesday: 8:20-7:30
Thursday: 8:20-7:30
Friday: 8:20-5:30
Saturday: 9:00-1:00 pm
What is your address in Applewood?
A: 1077 North Service Road, Unit 25, Mississauga, Ontario L4Y 1A6
Main intersection Cawthra and QEW
Do you sell custom knee braces?
A: Yes, we do offer custom knee braces. We can book you in for an assessment to have you properly measured for a custom knee brace.
How long does it take to get the custom knee brace in?
A: It will take approximately 1 week to have a knee brace shipped to us. However, rush orders are possible with delivery of the brace, within 24 hours if necessary.
Do you sell off the shelf knee braces?
A: Yes, we can order in off the shelf knee braces. We carry an extensive line of off the shelf knee bracing from all of the major suppliers including Don Joy, Ossur, Bledsoe and many others. We prefer to meet with you to discuss your needs and measure your leg prior to ordering the correct brace. We want you to be delighted with your bracing choice!
Are you opened on the weekends?
A: Yes, both clinics are open on Saturdays from 9am to 1pm!
Do you require a doctor's referral for physiotherapy treatment?
A: We don't require a doctor's referral, but your insurance company may require this in order to receive payment from your benefit plan.
How long will it take to get better?
A: Treatment varies between patients. When the Physiotherapist assesses you on day 1, they will be able to provide a better understanding of your prognosis. We expect that improvement should be evident even after the first visit.
Do you offer home visits?
A: We are not currently able to provide home visits.
How long is each appointment?
A: The assessment will take about an hour and every follow up is 40-45 min.
How should I dress for my appointment?
A: Usually comfortable, loose clothing would be fine. It also depends on the area of injury. If you have a knee injury, we suggest you bring in comfortable shorts to change into. For a shoulder injury, please wear a sleeveless shirt.
How many Physiotherapists do you have?
A: We have three Physiotherapists working at each location. We also have a Massage Therapist that works at each clinic.
Do you treat sports injuries?
A: Yes, we love to treat sports injuries. We have a full gym with exercise equipment available for full rehabilitation.
What is IMT?
A: Integrative Manual Therapy. Craniosacral therapy is a gentle non-invasive hands-on approach to assessment and treatment that release tensions deep in the body to relieve pain and dysfunction and improve total body health and performance. Also called CST or cranial osteopathy, it was developed by an American osteopathic physician almost 100 years ago.
Do I need to see a doctor before booking an appointment?
A: No, you can book an appointment with us at any time, as you do not require a doctor's note to be seen. We will happily communicate with your physician directly, if you wish, if we determine that further testing is required.
You may however, wish to check with your insurance company to see if they require a doctor's referral before they will pay for your treatments.