Total hip replacement surgery
In total hip replacement surgery (also called total hip arthroplasty), the affected hip joint is removed and replaced with a metallic implant. Total hip replacement surgery is usually performed in people who have severe arthritic changes. Normally they have a lot of pain in their hip and find difficulty walking or walk with a limp. Its an extensive surgical procedure that involves slitting open the muscles around the hip and buttock. Muscles that are usually cut are those that are required for walking and using the stairs. These are some of the functional activities that can be affected with hip arthritis.
You don't have to wait until your hip surgery to come and see a Registered Physiotherapist Mississauga. In fact, seeing a Registered Physiotherapist right after your decision to undergo a replacement surgery can get you back on your feet quicker after your surgery. You can set up a pre surgical appointment with PhysioNow to get you ready for your surgery. One appointment before the surgery can save you recovery time after the surgery. We can go over all of the things you need to know for after the surgery.
What to expect
Before the surgery
– Physiotherapists at PhysioNow Mississauga will closely work with you to get you back on your feet early after surgery. Check out this video if you want to see a bit more of what to expect with Total Hip replacement surgery. It is from the University of California, but it gives a comprehensive overview of the procedure and explains it quite well.
Physiotherapy Treatment will consist of:
– Assisting you to get the right size walker/cane to offload excessive stress during the initial phases of recovery
– Managing your pain and swelling during the initial phases of recovery by providing compression to the area using a compression stocking and applying ice around your hip joint
– Electrical modalities such as interferential therapy to decrease post-surgical hip pain
– Registered Massage Therapy to relax the muscles around the surgical area and your low back
– Using different exercise equipment such as theraband , weights and exercise machines
– Strengthening of the muscles around your hip to help you walk without a limp
– Various exercises to strengthen and maintain adequate flexibility in your hip/leg muscles
– Education on home modifications (elevated toilet seat, use of grabber) to facilitate your mobility in the house
– Simple foot/ankle exercises to prevent pooling of blood around your calf
Registered Physiotherapy Mississauga will help with functional recovery after your total hip replacement surgery. Total recovery from Total Hip replacement surgery takes an average of three months. The surgeon should send you home with a list of instructions to follow immediately after surgery. It is very important to follow the precautions that the surgeon gives you to avoid serious complications. Your physiotherapist can review these precautions with you!
After Total Hip replacement surgery, you will be ready to see a physiotherapist for further treatment outside of the hospital within 5- 7 days after discharge from the hospital.
You should expect to see your physiotherapist 1-2 times per week depending on your progress for up to 3 months after surgery.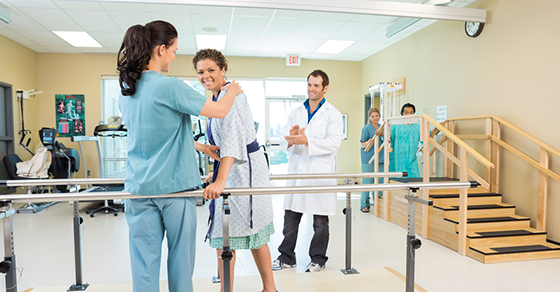 The goals of physiotherapy are:
– to have no limp when walking
– ability to climb stairs with normal alternating gait
– ability to walk as far as you want to walk without developing a limp from fatigue or weakness
– able to get out of a chair easily
– excellent balance while standing on one foot: up to 60 seconds without losing balance
Good Luck with your Surgery! Please call us to get started on recovery or to prepare you for your surgery! Call today! 289-724-0448.