What is a total knee replacement?
A total knee replacement is a surgery where the damaged portions for your knee joint are replaced with metal prosthesis.  The damage to the knee joint is usually as a result of arthritis.  These changes to the joint have likely accumulated over several years.   A total knee replacement is considered if pain is no longer manageable or if function is severely restricted.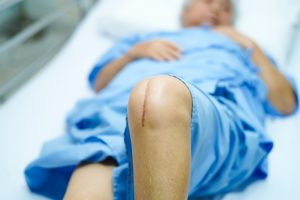 How do I get the best outcome after a knee replacement surgery?
There are many factors that can influence the surgery results and make it more likely that you have a successful outcome.
Surgery without complications
Firstly, the surgery itself has to be successful in replacing the damaged joint without resulting in any surgical complications.  The most common complications that can happen after any surgery include infection and blood clots.
Pain management
Next, it is important to have good pain management after surgery.  Unfortunately, the surgery results in pain.  This is very normal but you don't want to be in such severe pain that you are unable to function and complete your exercises, which are integral to your recovery.
Registered Physiotherapy
Seeing a Registered Physiotherapist is another important way to improve your surgery outcomes.  A physiotherapist can work with you on a one-on-one basis and make sure that you are doing the exercises that are best suited for you.  They can also make the necessary adjustments to make sure you are progressing as best as you can.
At PhysioNow, all our physiotherapists are very experienced in treating patients after a total knee replacement surgery.  Our therapists will do a thorough assessment of your knee to get an understanding of your starting point.  They will go over the exercises that you need to be doing and will add more progressive exercises as you continue to improve and recover.  The physiotherapists will also go through the do's and don'ts to make sure your recovery is on track.
Consistent exercises
One of the most important factors of success after surgery is to be diligent with your prescribed exercises.  You will be provided with a list of exercises and instructions on how to complete them and how often to complete them.  The exercises address all the important areas of your knee that need activation after the surgery.  Therefore, it is vital to your recovery to complete the exercises.  It is important to note that  you will have to push through pain in order to get optimal recovery.
The specific exercises that will be prescribed after the surgery will vary depending on the hospital where the surgery takes place.  However, the core set of exercises will be very similar.  Click here for a sample of Sunnybrook's exercise protocol.
Pacing your activities
Another key factor of recovery after surgery is to pace your activities.  It is important to take your time with your exercises and the rest of your day to day activities so that you are not doing too much at one time.  Breaking up your tasks into smaller ones and doing them over the course of the day, instead of all at once is a good way to prevent overloading of the knee.
Investing in prehab
A factor that usually doesn't get a lot of attention but is important to achieving a good outcome is that of prehab.  Prehab is a term for describing doing physiotherapy before your surgery.  The exercises prescribed will be similar to those given after your surgery.   However, doing them several weeks before your surgery can help build up your muscle strength and endurance, allowing you to feel stronger after your surgery.  Also, having practiced the exercises beforehand will make you more familiar with doing them again after your surgery.
What can I do after my total knee replacement surgery?
Once you have recovered your range of motion and working on building back your strength and stability, then you are able to do most of you activities within your tolerance.  In rare cases, your surgeon may advise you to avoid certain activities.  This is more likely to be the case if you also have problems with your other knee.  However, for most people, the advice is to do what they can as tolerated.  There may be some occasions, where if you do too much that you feel some soreness or fatigue through the knee but this is normal.  As you continue to work on your exercises and commit to staying active, your knee will also continue to feel stronger and tolerate more.
Let PhysioNow help you get back on your feet after your total knee replacement surgery.  Call PhysioNow today to book your appointment!