What is a concussion?
Concussion management is important for the recovery of a concussion, which is a form of a traumatic brain injury.  A concussion results from getting either a direct or indirect trauma to the head.  The trauma to the brain produces changes in the brain chemistry that can result in a wide variety of symptoms.  These symptoms can clear up within a couple of weeks.  However, for some people the symptoms can last for several weeks and months.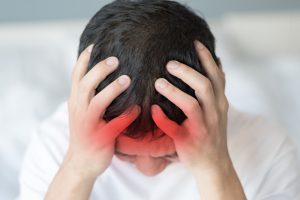 How do you know that you have a concussion?
A concussion injury results in a unique set of symptoms and limitations.  The signs and symptoms of a concussion include:
Headache
Dizziness
Nausea and/or vomiting
Sensitivity to light
Sensitivity to sound
Sleep disturbance
Excessive fatigue
Poor concentration
Feeling frustrated or impatient
Visual disturbances
Poor balance
Taking longer to think
Restlessness
Fogginess
These symptoms require some form of concussion management to improve and allow patients to completely recover.
What can I do to help with my concussion management?
A concussion has a significant impact on your day to day life.  This is especially true considering all the symptoms that are listed above.  The most important thing to remember about a concussion is that the injury creates a situation of energy imbalance in your body.  This happens as a result of the brain systems that are affected and how your body tries to manage working through those changes.
There are definitely things that can be done to help with your concussion management at home.  The main focus of self care of concussion is managing the energy imbalance and trying to reset your system.
Concussion Management Tip #1: Have a fixed sleep and wake time every day.
Sleep is often disturbed with a concussion injury.  It is important to allow your body to get into a routine with sleep because this will give you to get into a routine and ensures the same amount of sleep on a daily basis.  Having this fixed bed time and wake time gives your body the ability to manage its energy needs.
Concussion Management Tip #2: Avoid napping during the day.
Napping during the day interrupts the sleep cycle routine that your body needs to recover from a concussion.  You want to make sure that you save your sleep for the night so that you can restore your sleep cycle and prevent insomnia or restlessness at night.  However, if it is not possible to make it through the day without napping, it is recommended that you limit the nap to only 30 mins so that it doesn't take away too much sleep from your normal bedtime.
Concussion Management Tip #3: Focus on proper nutrition.
Because a concussion impacts your body's ability to manage energy, it is important to fuel your body with proper nutrition.  Try to eat your meals on a regular schedule every day and stay properly hydrated.  It is also important to stay away from foods that may disrupt your ability to get a good quality night of sleep.  For example, avoiding caffeine, alcohol, sugary foods and heavy meals in the late evening is recommended.
Concussion Management Tip #4: Include exercise in your day routine.
You may think that with the nature of the concussion symptoms that exercise is the last thing you should think about.  However, research shows the benefits of including exercise in your daily routine.  The right type of exercise actually helps reset your body and assists in your overall recovery.  A good place to start is with doing a daily walk of 20-30 mins at a comfortable pace.  Choosing a quiet path and listening to some classical music or wearing sunglasses can help manage some of the concussion symptoms.
Concussion Management Tip #5: See a Registered Physiotherapist.
Although your symptoms can reduce with the above mentioned self care tips, it is important to see a health professional who knows how to assess and treat a concussion injury.  A Registered Physiotherapist can do a thorough investigation into your symptoms and can provide treatment to help address those concerns.
Will a concussion get better on its own?
For a lot of people, a concussion can improve in about 2 weeks' time with the recommendations described above.  However, for some others, a concussion can last for several more weeks or even months.  In a few cases, the symptoms can last for more than a year. Therefore, it is important to seek out concussion rehabilitation if the symptoms don't seem to be subsiding after a week or two.  In fact, getting treatment sooner than later helps with achieving a faster recovery.
At PhysioNow, we have Registered Physiotherapists who are trained in the assessment and treatment of concussion injuries.  The physiotherapist can do a thorough examination into the symptoms of the concussion and provide the most appropriate education and treatment to help you recover.  Every concussion is different and our physiotherapists make sure that the treatment provided is specific to your injury, symptoms and goals.
What does physiotherapy treatment for a concussion look like?
Physiotherapy treatment for concussion has several different components.  At PhysioNow, the main features of treatment include:
Education – activity modifications and general do's and don'ts to help with the recovery of the injury
Manual therapy for the cervical spine – the neck is often involved in a concussion injury and contributes to the overall symptom presentation.  The neck therefore benefits from manual therapy such as soft tissue work, mobilizations and stretches.
Exercises for the head, eyes and neck to desensitize the concussion symptoms and allow for a safe return to work, school and activity.
Do not let your concussion injury stop you from living your life.   Call PhysioNow today to book your assessment!