What is endometriosis?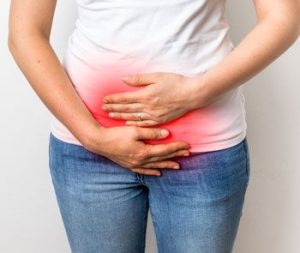 Endometriosis is a condition where tissues which is similar to the inner lining of the uterus grows outside the uterus which can affect nearby organs including the bowel and bladder. The tissue thickens
and does shed with the monthly cycle.  At times when tissues get trapped and does not exit the body it can progress to form cyst called endometriomas. At last, it results in irritation to surrounding tissues and organs forming scar tissue and adhesions.
What are the symptoms?
Symptoms includes,
Firstly, Pelvic pain.
Secondly,  Heavy periods.
Infertility.
Abdominal bloating.
Urinary and bowel concerns.
lastly,  Fatigue.
However, endometriosis can be mistaken for other conditions such as Irritable bowel syndrome, Inflammatory pelvic disease. Therefore, early diagnosis will help in managing the symptoms.
Treatment options available:
There is no cure for endometriosis currently. Although, treatments to manage the symptoms includes,
1. Hormone therapies.
2. Over the counter medication.
3. Pelvic physiotherapy.
4. Surgery.
Pelvic health physiotherapy in Endometriosis
Pelvic health physiotherapy can help to reduce the symptoms, improve the function, improve the flexibility and improve the strength of the pelvic floor muscles. The techniques help to relax the muscles which ultimately help to ease the symptoms. How does pelvic floor physiotherapy help in endometriosis,
Relieve endometrial pain: Approaches to down train the pelvic floor muscles and introducing bio-psychosocial approach to help in relaxing the pelvic floor muscles.
Reduce painful sex: Helping with stretches and breathing techniques, dilators, and hands on techniques to reduce the tension and resistance in the pelvic floor area.
Reduce abdominal bloating or endo belly by helping in assisting venous and lymphatic drainage
in our body.
Painful urination: by educating on proper water intake, and voiding techniques and by
maintaining a bladder diary to reduce the effects pressure causing pain when bladder fills up.
Painful bowel movements: Education and advices on diet and positions on easy bowel movements along exercises to manage the situation.
Also, pelvic floor therapy post endometriosis surgery would help to retrain pelvic floor muscles to relax and to coordinate contractions. This helps to reduce spasms during menstruation.
Lastly, Bio psychosocial component of pelvic floor physiotherapy helps in identifying and addressing the psycho social aspects and its influence on normal function of your body. Relaxation techniques and hands on techniques to calm down the senses that could be the trigger to pain can be managed to a great extent.
Take away message – If you are suffering from endometriosis and are finding difficulty to manage its symptoms, our team of qualified Pelvic PT will help you assess and guide through the whole treatment. Book your appointment today!