HIP REPLACEMENT TREATMENT
HIP REPLACEMENT TREATMENT will help speed up the recovery process. Healing and recovery time varies between patients. Proper management is important after hip replacement surgery to minimize complications. Supervised Hip Replacement Treatment will help to restore strength and range of motion.
This guide can help you better understand your exercise and activity program. At PhysioNow, our Registered Physiotherapists will help you return to your daily activities. To ensure your safe recovery, be sure to check with your physiotherapist at PhysioNow or surgeon before performing any of the exercises shown.
SAFETY PRECAUTIONS AFTER TOTAL HIP REPLACEMENT UP TO 12 WEEKS MINIMUM:
After hip replacement surgery precautions must be taken to allow proper healing. It is important that you must follow the safety precaution at all times in the first 12 weeks after your surgery.
– Avoid extremes range of motion at all times
– When seated, ensure your knees should always be lower than your hips
– Use a raised toilet seat
– Use a cushion when sitting in a vehicle
– Sit on a high, firm chair at the level of your knees or higher.
– Do NOT lean forward from a sitting position to reach for items or put on shoes
– Use a long-handled shoe horn or reacher instead
– Do NOT twist your leg or turn your hip or knee
– Do NOT twist your trunk. Move your feet to turn when you are standing
– Do NOT sit cross-legged
– Do NOT cross your ankles when lying on back
DECIDING HOW MUCH WEIGHT TO PUT ON YOUR NEW HIP?
Your surgeon will decide your weight bearing status based upon the following:
-The type of surgery and prostheses used
-The condition of the your natural bone
-How the prostheses was fixated to the natural bone
Follow instructions from your surgeon at the hospital and at home upon discharge. Initially you will be advised to put a small percentage of weight on the affected leg. With proper exercise and keeping safety precautions in mind, you should be able to restore strength to your new hip over time.
TOTAL HIP REPLACEMENT TREATMENT GUIDE FOR WEEK 1 TO 4
1) ANKLE PUMPS:
Slowly point the toes as far as possible then pull them back toward you as far as possible.
Repeat this exercise several times a day, as often as every 10 to 15 minutes.

2) ANKLE ROTATIONS:
Move your ankle inward toward your other foot and then outward away from your other foot.
Repeat 5 times in each direction.
Perform 3 to 4 sessions a day.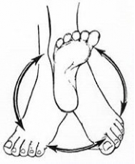 3) BUTTOCK CONTRACTIONS
Tighten your buttock muscles.
Hold for 5 second. Repeat 10 times.
Perform 3 or 4 sessions a day


4) HIP ABDUCTION
Slide your leg out to the side as far as you can and then back.
Repeat 10 times.
Perform 3 or 4 sessions a day



5) QUADRACIPS SET
Tighten your thigh muscle. Try to straighten your knee. Hold for 5 to 10 seconds, repeat 10 times.

6) STRAIGHT LEG RAISES
Tighten your thigh muscle with your knee fully straightened on the bed. Lift your leg several inches off of floor. Hold for 5 to 10 seconds. Slowly return, repeat 10 times.

7) STANDING EXERCISES
Make sure you are holding on to a firm surface such as a bar attached to your bed or a wall when performing standing exercises.
8) STANDING KNEE RAISES
Lift your operated leg only few inches off the floor, below your waist.
Hold for 2 to 3 seconds, and put your leg down. Repeat 10 times both legs.
Perform 3 or 4 sessions a day.


9) STANDING HIP ABDUCTION
While standing, raise your leg out to the side. Keep your knee straight and maintain your toes pointed forward the entire time. Slowly lower your leg so your foot is back on the floor.
Repeat 10 times on each leg.
Perform 3 or 4 sessions a day.

10) STANDING HIP EXTENSIONS
Standing tall and keeping knee straight, extend one leg back without leaning forward or arching your back. Return to the starting position.
Repeat 10 times for each leg.
Perform 3 or 4 sessions a day.

Always attempt any exercises within your pain tolerance. Hip replacement surgery can be a rewarding experience, as it will allow you to return to your daily living activities. Please contact our Registered Physiotherapist at PhysioNow to help you assist with your safe recovery.
Registered Massage Therapy is another excellent treatment after having had a Total Hip Replacement. The muscles in the low back and hip area tend to get quite tight after surgery and Registered Massage Therapists are very skilled at releasing this muscle tension. This speeds up recovery time! We have Registered Massage Therapists available daily Monday to Saturday.
If you are considering having hip replacement surgery, check out this link to the Mayo Clinic with some information that may be useful .