Labyrinthitis is an inner ear disorder. The two vestibular nerves in your inner ear send your brain information about your spatial navigation and balance control. When one of these nerves becomes inflamed, it creates a condition known as labyrinthitis.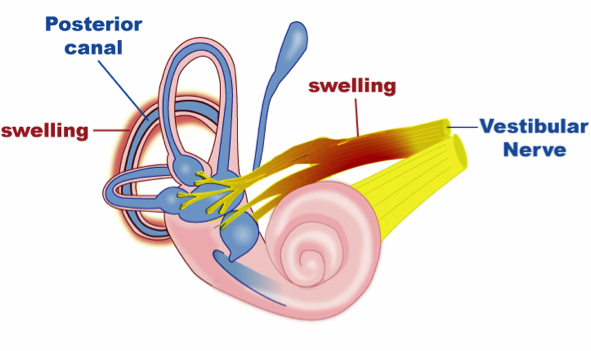 Symptoms:
dizziness
vertigo
loss of balance
nausea and vomiting
tinnitus, which is characterized by a ringing or buzzing in your ear
loss of hearing in the high-frequency range in one ear
difficulty focusing your eyes
Causes
respiratory illnesses, such as bronchitis
viral infections of the inner ear
stomach viruses
herpes viruses
bacterial infections, including bacterial middle ear infections
infectious organisms, such as the organism that causes Lyme disease
If you would like to learn more about Labyrinthitis, please check out this link.
Diagnosis
Tests to check for the condition may include:
hearing tests
blood tests
a CT or MRI scan of your head to record images of your cranial structures
electroencephalogram (EEG), which is a brain wave test
electronystagmography (ENG), which is an eye movement test
Treatment
Most of the time, labyrinthitis and vestibular neuritis go away on their own. This normally takes several weeks. If the cause is a bacterial infection, your doctor will give you antibiotics. But most cases are caused by viral infections, which can't be cured with antibiotics. In those situations, your doctor may prescribe steroid medicines, which may help you get better sooner.
Avoid television, computer screens, and bright or flashing lights during a vertigo attack.
If vertigo occurs while you're in bed, try sitting up in a chair and keeping your head still.
Low lighting is better for your symptoms than darkness or bright lights.
If your vertigo continues for a long time, physical therapists can teach you exercises to help improve your symptoms
If you have any further queries please call PhysioNow. Our experienced physiotherapists would be happy to clear your doubts.