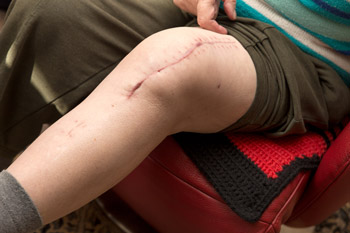 What about Knee Replacement Physio?

Knee Replacement Physio is necessary after having surgery. People get knee replacement surgeries because they have a lot of pain and limitations with their knee. These surgeries are usually for people who have advanced arthritis. Its important to do proper Knee replacement physio after the surgery to get your knee to a good functional level.
Check out this video for a bit more information about Knee replacement surgery>https://www.medicalnewstoday.com/articles/247500.php
What happens after the surgery?
You will receive in-patient Physiotherapy at the hospital. You will work on regaining your knee movement. In addition, you will also start with some gentle strengthening exercises. Physiotherapists at the hospital will teach you how to walk with a walker and go up and down stairs before you are sent home.
What Happens after you go home?
Once at home, you should have homecare Knee replacement physio services that are provided. Usually, a Physiotherapist will visit your home once a week. They will help you to work on progressing your exercises. However, once all this is completed, there will still be some remaining pain, limitations of movement and strength deficits.
Therefore, it is important to seek out private
Knee replacement physio in the community. This will allow you to continue working on the remaining issues. As a result, this extra Physiotherapy treatment will allow you to achieve full recovery. Our goal is to get you back to all of the things you like to do!
Frequently Asked Questions about
Knee replacement physio
There are usually a lot of questions regarding seeking out additional Physiotherapy services. It can seem quite challenging to find the right clinic to work with you. However, having all the necessary information will certainly make things a little bit easier! Here are some of our Frequently Asked Questions:

Do I need a doctor's referral to see a Physiotherapist in the community?

Registered Physiotherapists are considered to be primary care providers and therefore you do not need a doctor's referral to receive care. However, if you have any extended health care (EHC) insurance that covers Physiotherapy treatments, your insurer may need a doctor's referral to approve the coverage. If you do have any EHC, then it may be worthwhile to call the company and find out the details of the coverage prior to coming in for your initial appointment.

Will the treatments be covered by OHIP?
Will the treatments be covered by OHIP?
PhysioNow is a private practice and therefore our services are not covered by OHIP. We do however accept extended health care insurance. We can bill electronically on your behalf if your plan allows us to do so. If you do not have any EHC, we can offer a reduced fee to reduce some of the financial stress of receiving treatment. Please give us a call to discuss this if this applies to you:)
Am I eligible for OHIP Physiotherapy?
To receive physiotherapy services covered by OHIP, you have to attend an OHIP-licensed clinic and you have to meet certain eligibility criteria.
65 years of age and older;
19 years of age and younger; or
Recently discharged as an inpatient from a hospital and in need of physiotherapy services. These must be directly connected to the condition, illness or injury for which you were admitted to the hospital.
Our administrative staff can certainly help you with any further questions that you might have.

How fast can I book an appointment at PhysioNow?
Since we have 3 locations in Mississauga, and 1 location in Etobicoke, we can get you in for treatment same day if needed. We try our hardest to work with your availability.

What should I wear for the appointment?
Since we are assessing your knee, you should bring a pair of shorts so that the knee is easily visible and accessible.
How long will the first visit take?
The first visit usually takes about 1 hour to complete. During this visit, your Physiotherapist will meet with you and go through an assessment. As a result, they can fully understand the limitations and restrictions that require treatment. In addition, your Physiotherapist will also provide treatment that same day. This will include some modalities, hands on therapy, exercise prescription and education.

How long do follow-up visits take?
How long do follow-up visits take?
Your follow-up visits usually range between 45 mins to 1 hour. This depends on how far along you are with your treatment. Your Physiotherapist will re-assess you after every couple of visits to track any changes. This will allow them to progress your treatment.
How many visits will it take before I am fully recovered?
The number of visits needed to fully recover is different for every patient. Everyone heals at a different rate. As a result, it is difficult to set out a firm timeline. In general, the majority of people complete about 8-12 weeks of treatment. As they improve, more and more of the treatment can be completed independently at home.

I know there are 4 different locations of PhysioNow. Can I book an assessment at one office and then a follow-up at a different office if necessary? ?
Yes, you can definitely have your assessment at one office and your follow up at another office if necessary. Firstly, we will try our best to book appointments that work best for you. Secondly, if one location works better than another, there is no issue with changing locations. Lastly, we can send over your treatment file to the other office. As a result, the Physiotherapist seeing you has all the information. In conclusion, we can provide ongoing treatment at any location.
We hope that these FAQs provide you with the information that you are looking for. We hope that you will feel comfortable to choose PhysioNow for your physiotherapy care!
PhysioNow
Lastly, if you or someone you know is planning to have a Knee replacement, we at PhysioNow are happy to help! We have many highly trained Physiotherapists at all of our clinics. Call today to get started! https://www.physionow.ca/